Farmington, Maine Car Show:
For the first time a "Military Vehicles" class was included in categories at this popular show. Word spread amongst MV owners in Maine and a dozen vehicles attended.
There were 12 military vehicles present- CCKW, WC52, WC6 command car, 2 M170s one with a "Queen City" built wood body Ben Hur trailer, 2 slat grilles MBs, a late MB, a late GPW, a script GPW & Bantam Trailer , CUCV, and an M38. There were also several civilian Willys jeeps including an excellent '46 CJ2a, a '49 jeepster and a 1960 FC. About 200 cars total were at the show. One M170 that was very nice with stretchers and everything took First Place. Mike Quinn's WC52 took Second, and Sweetpea took Third place in the class. Joe Hall's unrestored Command Car (which was trailered-up the night befoe) got the "President's Choice Award" probably because of the effort it took to get the darn thing there!

The CCKW drove 100 miles one-way to get to the show! I drove Sweetpea with the trailer 170 miles total. The WC52 (Dodge Weapons carrier) drove 1.5 hours one-way. It was great to see such a turn out for this first-ever event.

---
MV Line-up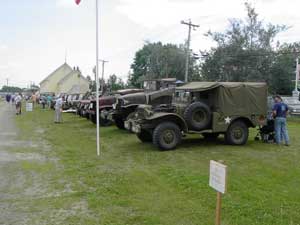 ---
CCKW

---
CUCV

---
Cecil Holman's 1955 M170
First Place - Military

---
Mike Quinn's WC52
Second Place - Military
---
Joe Hall's WC6
Club VP's Award
---
M38

---
"Miss Adventure"
GPW

---
Navy Slat Grille
MB

---
"Pea Soup"
MB

---
"Sweetpea"
Ren Bernier's GPW
Third Place - Military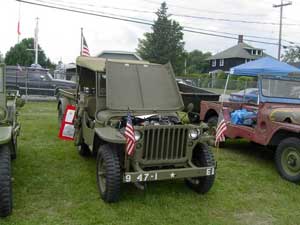 ---
1945 MB

---
Class Winners
---
---
Non-Military jeeps
1947 CJ2a trail jeep

---
"Factory Fresh"
CJ2a

---
---