MB's & GPW's on Parade:
Restored MB's and GPW's are always a welcome feature in local parades. Perhaps these images will inspire you to get your jeep project finished and entered in a nearby event.
If you participated in a parade or public display with your MB or GPW, please contact me. I would like to add your pictures and information to this page.
Thanks, Ren Bernier --> jeepguy@dialmaine.com.
---
Mike Seymour's MB
Harrisburg, Oregon July 4th Parade
7-4-02
MB220395
---
Nick Warchol's MB
Boxborough, MA Memorial Day Parade
5/27/02
MB421816
---
Joel Bohy's MB
Concord, MA Memorial Day Parade
5/27/02
MB422810
---
Nick Warchol's (on right) and Joel Bohy's (on left) MBs
Concord, MA Parade
5/27/02
MB421816 and MB422810
---
John Klier's MB
Admiral Nimitz National Museum Parade
12/7/01
---
Rene Bernier's GPW
Brunswick-Topsham, ME Memorial Day Parade
5/27/02
GPW20577
---
Bob Verhasselt's GPW
Rochelle Park, NJ Memorial Day Parade
5/27/02
GPW116311
---
David Welch's GPW
Long Hill Township, NJ Memorial Day Parade
5/27/02
GPW77710
---
Jon Schneider's MB
Harrisburg, Oregon July 4th Parade
7/4/2001
MB 213689
---
Joe Potter (Front)
MB448135
Roy Fitzpatrick (Ron's Dad)(Rear)
GPW161577
Calistoga, California Fourth of July Parade
7/4/2002

---
Michael Bonak's GPW
Centennial Celebration, Memorial Day Weekend 2002, Roanoke, Illinois
5/27/02
GPW 186956
Enlarge
---
Baxter Fite Jr.'s MB
Centennial Celebration, Memorial Day Weekend 2002, Roanoke, Illinois
5/27/02
MB 222873
Enlarge
---

Patrick Walker's MB
City of Lincoln, CA. Parade on the 4th of July
7/4/02
MB 445470
Enlarge

---

Lee Bishop's MB
4th of July Parade, Tumwater, Washington
7/4/02
MB 366014
Enlarge
---
Mac McCluskey's MB
July 4th Parade, Crescent City, Ca.
7/4/02
Serial number unknown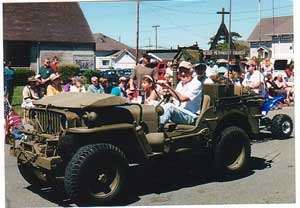 ---
Tom Bos's WWII jeep replica
Salute to Veterans Parade, 2001 Iowa State Fair
8/09/01
Serial number N/A
---
Maurizio Beretta's 1943 MB
Monghidoro (Italy)
April 25, 2003 (Anniversary of Liberation)
MB 291405
---
Glen Villoz's WWII jeep replica
4th Of July Parade, Lakeway, Texas
7/4/02
Serial number N/A
---
Scott David's MB
Lost Dutchman Days Parade, Apache Junction, AZ
Feb 15th, 2003
MB110357
---
Alasdair Brass' GPW
Anzac Day Parade, Papanui, New Zealand
April 25th, 2003
GPW53126

(Al Brass, driver )
---
Alasdair Brass' MB
Anzac Day Parade, Papanui, New Zealand
April 25th, 2003
MB290463

(Ewan Macpherson, driver )